Cigars and Martinis


Introduction
I've been smoking cigars off and on for about 10 years now. I'm not one of those new yuppie smokers who got into it because it was trendy or hip. In fact, when I started smoking cigars nobody ever accused me of trying to be cool. They actually just figured that I never wanted to meet women and date!
read on...
The Don Martello Cigar Smoker's Journal
Keeping some sort of journal or log of your cigars is a good idea for any smoker, especially if you're new to the cigar world.
get more info...
Cigar Tips - get the tip of the month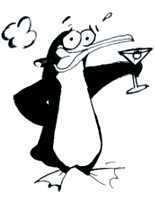 Cigar Comedy - cigar comebacks and top 10 lists
Martinis
Martinis are fun drinks! There's no way around it. They're just fun! There are as many different recipes and theories about martinis as there are martini drinkers.
read more...
Cool Links - cigars on the Web


Cigar Home Page | Introduction
Don Martello Cigar Smoker's Journal
Cigar Tips | Cigar Comedy | Martinis | Cigar Links