"The show was spectacular!"
M. Burns
Cedar Beach Park, Ontario, Canada
Hi folks!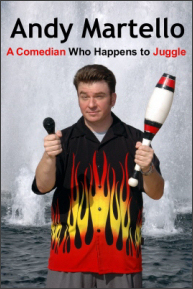 Welcome to andymartello.com! This site is designed to answer any questions you might have regarding my act. Okay, it's really here to drum up some business and get me some work! I just thought I'd try to sound more professional.
I've provided you with a 'virtual brochure', complete with audio, video clips, photos, reviews, and much more. You can even play 'Andy Martello's Plate Spinning Challenge' and try your hand at one of my more popular acts. If you can do it better than I can­ YOU'RE HIRED! When you're done stop by 'Andy Land' and see a more personal side of your humble host.
All right, enough of my yakkin'. Go check out the site. I hope you enjoy yourself. Don't forget to wipe your feet. I just paid for this thing and I don't want to get it dirty.
Thanks!