'Louie Louie' & Other
Mysteries of Life - FAQs
All right kids, let's get a few things straight RIGHT NOW!
'Louie, Louie' was written by RICHARD BERRY in 1955. It was NOT written by The Kingsmen. The lyrics are NOT in any way dirty (Well, the original lyrics at least.). Get your facts right, people. I HATE it when you make these mistakes, like thinking that Billy Idol wrote 'Mony Mony'. I'm sure Tommy James doesn't mind so long as his royalties keep coming in.
Richard Berry was shafted out of the thrill of royalty checks for a long time and the only way he can get any recognition at all is for jerks like me to give credit where it's due.
Now, on to some F.A.Q's (I've always wanted to us that cool Internet term!)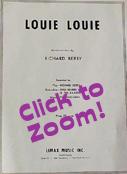 Q: "Hey Freak, how many versions of 'Louie, Louie' do you own?"
A: Currently I have around 150 or so.
Q: "Gee Weirdo, are you aware of how strange that sounds?"
A: I KNOW that having a collection filled with versions of the same song is a little goofy. I understand that most of you will likely think I'm nuts for having such a strange hobby. Thinking I'm nuts is not an original thought. It is in fact quite a common thought so just BACK OFF! I don't expect anybody out there to understand this (If you do understand…GET HELP BY GOD!). All I expect is for you to enjoy my lunacy and have fun with it, as I do.
Q: "Why 'Louie, Louie' you lunatic?"
A: I'll answer that later. See 'The Story'.
Q: "So Psycho, where do you get these things?"
A: Record stores, garage sales, and specialty shows. I don't spend all my free time pursuing scarce 45's and albums nor do I scavenge the record shows (Anymore!). I DO have a life outside of this bizarre fascination (If you can call eating fire a 'life'). Believe it or not this is just a time killer for me. When I feel like hunting for more I go. I haven't added to the collection in years. When I first started I was a bit obsessive about it but thanks to cigars, women, and martinis, I can now call it a hobby.
Q: "Uh, Mr. Nut-job, I was wondering, do you have the Kingsmen's version of 'Louie, Louie'?"
A: YES! Stop asking that, already. It's a stupid question. It's like asking a Beatles fan if he owns 'Sgt. Pepper'.
Q: "YO! Moron, What does your wife think about this? That is to say, do you EVER get laid?"
A: My wife loves it. She thinks it is fun. It's one of the many reasons I married her. Other women pale by comparison anyway, but the acceptance of the 'Louie' thing is icing on the cake.
Q: "ANSWER THE QUESTION, LOSER! Do you ever get-"
A: Next question!
Q: "Hey, Madman! You don't, like, sit around the house and listen to these things do you?"
A: Sadly, yes. On occasion I'll listen to them all.
Q: "It's the SAME DAMN SONG! How can you do that? Or do you accept the fact that you're a geek?"
A: This will sound strange but there are MANY differences in style and interpretation of this simple song. I've got versions for virtually any mood. There are foreign language versions, instrumental versions, you name it. Some folks have changed the lyrics others keep the lyrics and change the music. It's really an interesting experiment. And yes, I know I'm a geek. Hey, how many times have you logged on to the 'Voyeur Dorm'? I thought so!
Q: "Excuse me Dork, but I have a version of 'Louie, Louie' that you don't have. Would you like it?"
A: YES!
Q: "Will you pay for it?"
A: NO! I will buy CD's or cassettes if they're ones I can't get from a typical source. I've even bought bootlegs from folks but I'd rather trade for them so as not to take $$$ out of the artists hands. I won't pay a ton of dough though. Even though I'd like to have the LARGEST collection in the world, it is not worth spending all my cigar money on these things. Everything is negotiable, let's talk.
Q: "So what you're saying is-"
A: WAIT! There's more to add here! If you have a band and would like to add your version to this ever-growing list of artists I'd love to get a copy. I don't care HOW awful the recording is either. You don't have to rent a studio or anything! It can just be a simple demo or a tape from one of your shows. I won't be releasing them or broadcasting them to anyone so don't worry about copyright infringement and royalties. This is just for fun. If you have the song on your own band's CD I'll happily buy it from you but I'd be more likely to pass your name along and tell everyone how great you are if you send me a complimentary copy! In any event, I encourage you to come up with new and different versions of the song. In return, I will always mention your name in gratitude and I'll certainly direct people to your own web site if you have one. I know that it could take forever for me to find all known, recorded versions of the song. This way I can have a unique place among the other 'Louie' collectors out there (YES, there are more of them!) by having versions most will never own. If you have a version of 'Louie, Louie' you'd like to share with me click HERE! I'm really looking for the 2 versions by the Grateful Dead, a Led Zeppelin boot, and the Pink Floyd rendition.
Q: "Ah, I see. What constitutes a good version of the song?"
A: Any version of the song is good, including the lousy ones (and there are MANY of those!). I expect either the music or the lyrics to be correct. They don't necessarily have to go together. The stranger, the better! Surprise me!
Louie Index | FAQs | The Story | Louie Facts
Rock n' Roll Poker | The List | Top 10 | Links